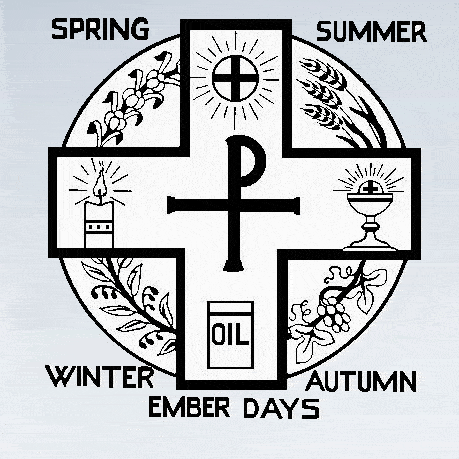 "Four times a year, approximately three months apart, near the beginning of each season of the solar cycle (winter, spring, summer and autumn), the Church set aside three days (a total of twelve days in a year) to ask for blessings upon mankind, and to pray in gratitude for the blessings of nature, particularly those used by the Church in her Liturgy, such as olives, grapes, and wheat.
This is also a time set apart to thank God for the sacraments and pray for priests, particularly those who were being ordained. These days are marked with prayer, fasting and abstinence and stress spiritual renewal;
Ember Days could be regarded as quarterly spiritual check-ups."
Ember Days, Catholic Culture
Today we have the first of the three autumn Ember Days which follow the Exultation of the holy Cross, where we fast (one meal and two snacks) and observe partial abstinence (meat only once at our main meal). People tend to drift over time. It's human nature.  No matter how sincere we may be when we make resolutions, the following months often find at least some of these relaxed or perhaps abandoned altogether.   These days serve as a sort of reset at the beginning of each new quarter. We mark the change of season and set aside a few days of self-discipline to dedicate them to God and ask Him to bless them.  We can also use this time to rededicate ourselves, to see where we have had backsliding, and shore up our routines and devotions. 
An adult son and I were discussing ways you can arm your children.  One such way, which is repeatedly asserted in books like Mother Love, is to help them gain mastery over their appetites.  To accustom them to being content with simple food, to rise promptly, and endure minor discomforts with composure.  These are disciplines largely cast aside in our era.  We are reminded however, that those who are faithful in small things will be faithful in greater.  Ember Days offer one such tool to cultivate faithfulness. 
image: Kendra Tierney